We may earn money from the products/companies mentioned in this post. As an Amazon Associate I earn from qualifying purchases. For more information, read our Terms & Disclosures.
Let's Fly into Fall with 10 Bat and Witch Crafts for Kids!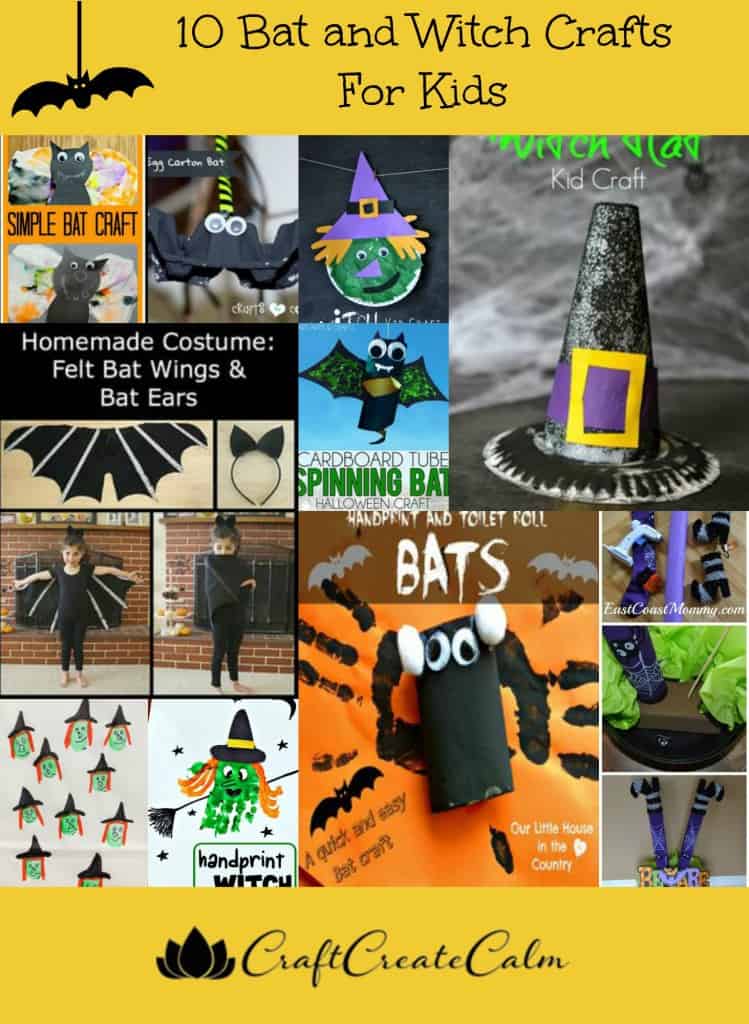 Your kids are ready for fall crafting fun!
The leaves are falling from the trees. I know this because my four year old tells me this every day. His excited little voice gets me excited, and now we're both ready for some fall crafting! To add to the fun, I've teamed up with some pretty awesome bloggers over at Kids Blogger Network to round up some of our favorite fall crafts! We've all created amazing fall craft round-ups that you won't want to miss!
Your'e excited right? These crafts will give your kids a chance to celebrate the spooky season! I've searched high and low to find my favorite fall crafts for kids, so let's get to it!
10 Bat and Witch Crafts for Kids
Simple Bat Craft for Kids from Fun-a-Day. I love the use of simple materials and how cute is that bat face? Yep, bats can be cute!
2. Make a Spooky Egg Carton Bat by Crafts by Courtney. I've actually been eyeing these bats for months, and have the egg cartons to prove it! This craft looks simple enough for even the youngest crafter.
3. Cardboard Tube Spinning Bats by iheartnapsncrafts. Glitter and googly eyes!
4. Pool Noodle Witch Legs by EastCoastMommyBlog. I adore this craft. Living in a hot climate, we have pool noodles left over from summer pool play, and this witchy craft is just what my kids and I need!
5. Witch Hat from GluedtomyCraftsBlog. I have a confession to make. Witch hats are my ultimate favorite. This is a craft that kids can complete with little hands-on help from an adult.
6. Halloween Witch Kid Craft via GluedtomyCraftsBlog. The handprint witch hair is adorable, and applying the small squares of tissue is a great fine motor skill activity.
7. Hand Print and Toilet Roll Bats by OurLittleHouseintheCountry. What I love about this bat is the simplicity. Little crafters can paint the cardboard tube and make their own hand-prints.
8. Handprint Witch from CraftyMorning.  Okay, okay, I may have a thing for handprints. But those little hands grow up and get big so fast that I can't help but want to preserve a few prints for myself! The colors in the craft are outstanding!
9. Fingerprint Witches via frogsandsnailsandpuppydogtail. The faces. Each face is unique. I don't know about you but I have never seen such happy witches!
10. Home Made Bat Wings from BuggyandBuddy. This isn't exactly a kid diy, but I know you're ready to get your craft on so I added one for you grown-ups. Your child will love transforming into a bat, and I'm sure there are some steps they can help with too!
Craving more fall DIY?  Click to see my featured Seasonal Crafts.