We may earn money from the products/companies mentioned in this post. As an Amazon Associate I earn from qualifying purchases. For more information, read our Terms & Disclosures.

DIY Halloween Witch Wreath
In just a couple of weeks fall will be here and front porches will be full of pumpkins and festive autumn decorations. We hang this diy witch wreath on our door every year for a spooky (and fun) greeting to trick or treaters.
Last fall I was really into witch themed decorations. Every time I went to a craft store I was drawn in by the broom sticks, pointed hats, purple ribbon and green accessories. I even tried to convince my daughter to dress up as a witch for Halloween, but she opted for the ever popular Elsa instead.
Supplies for a Witch Wreath
You can make this Halloween wreath in an afternoon so get a warm cut of tea, light a warm fire and get out your craft supplies!
Black craft paint with brushes
Hot Glue Gun and Glue Sticks
Floral Accessories to Decorate the Wreath (see below)
I was browsing through a local craft store when I found a wispy grapevine wreath and it immediately made me think of a witch's broom. I purchased all the supplies at the craft store and added the links above for your convenience.
I found purple glitter curly twigs, a witch hat and artificial green grapes on the Halloween floral aisle of my local Michaels. I spotted a purple and black flower hair clip hanging from a display and it fits in perfectly doesn't it? Get creative and check out items that go with the color theme, even if they aren't seasonal decor!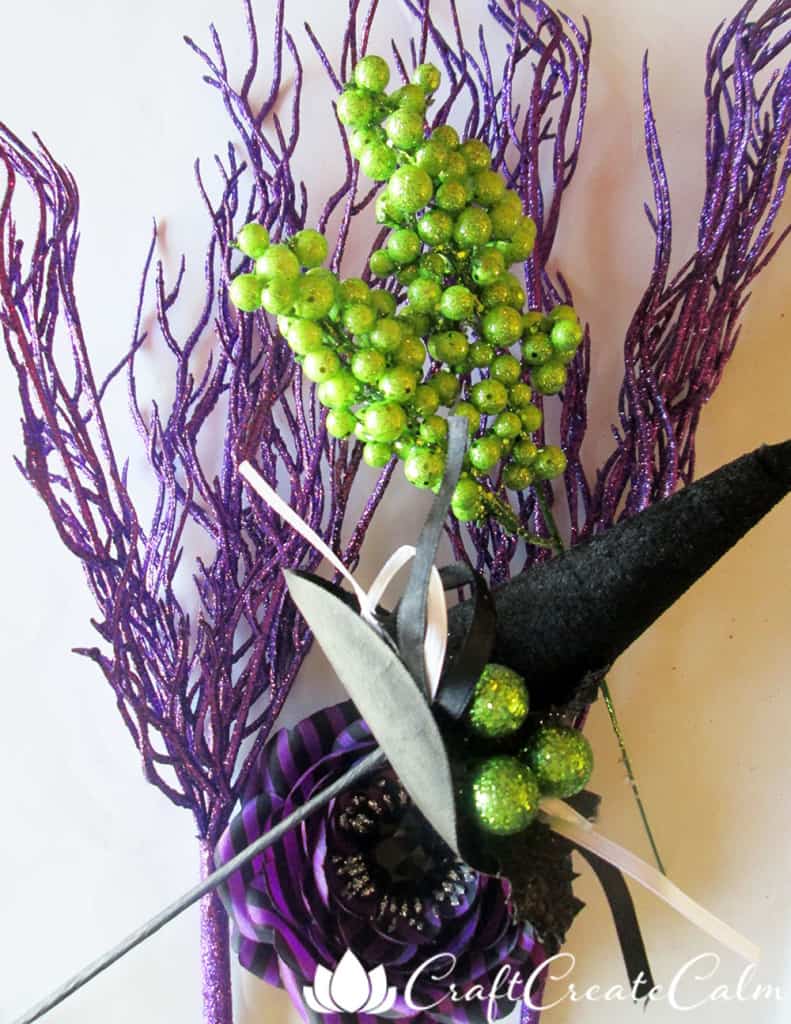 How to make a Halloween Witch Wreath
Start by painting just the inside circle shape of the wreath black. Don't paint the wispy grapevines. Let the paint dry.
Wrap the purple glitter ribbon around the parts of the wreath that are gathered tightly, leaving the wispy vines unpainted. Think of the ribbon wrapped vines as your broom handles. Start by securing one end of the ribbon with hot glue. Next begin wrapping the ribbon tightly around the vines until you reach the base of the loose vines. Cut and secure the ribbon with hot glue. Repeat with each set of gathered vines.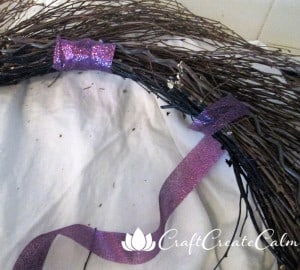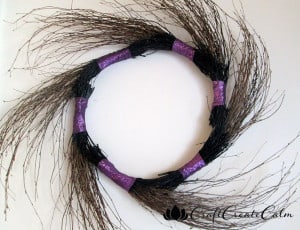 Finish the wreath by adding the accessories that make the witch broom wreath unique! I was able to push the ends of my floral accessories directly into the wreath. For added stability, use floral wire or hot glue to make accessories stay put at the base of the wreath. Finish the wreath by adding a little witch hat to the top left side. Now you're ready to hang it on the front door to greet trick or treaters!