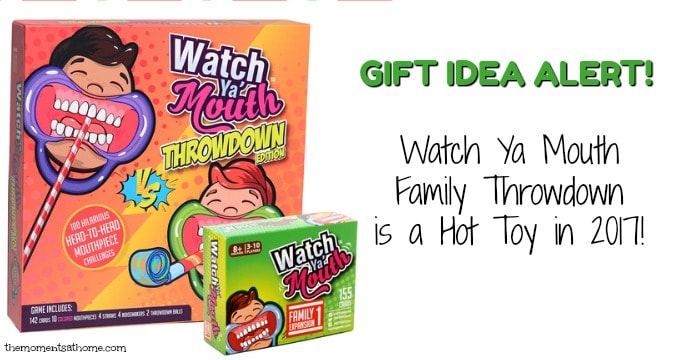 I was recently sent a Watch Ya' Mouth Throwdown Edition game in exchange for this review in partnership with USFamilyGuide. All opinions are my own.
You may have heard of the popular Watch Ya' Mouth game where players wear cheek retractors to keep their mouth open and try to guess what each other is saying. The game is funny and entertaining so when I received the Watch Ya' Mouth Throwdown Edition I had high expectations.
What's New with the Watch Ya Mouth Throwdown Edition?
The throwdown edition of this popular game offers even more challenging but funny gameplay. Guess what the other players are singing on their kazoo and other silly challenges.
Included in each game box are the following:
100 Throwdown Cards, 42 Phrase Cards, 10 Multicolored Mouthpieces (6 Regular and 4 Small), 4 Throwdown Straws, 4 Noisemakers, 2 Throwdown Balls, 1 Throwdown Dice, 1 Sand Timer
As you can see this is a little more involved than the previous game of Watch Ya' Mouth! Watch Ya' Mouth Throwdown Edition is recommended for kids ages 8+. I have younger kids also so we played in teams. The cheek retractors were a hit along with the kazoos.
I do need to note that our game did not come with any kind of instructions. I had piled the cards up together before realizing through game play that they needed to be separated. This did put a bit of a downer on our family game night because there were no rules, no point keeping (though we did keep score in our own way) and the kids were a little discouraged.
Want a hilarious family game to play during the Holidays? Your search is over. 15% off Coupon Code: 15WYM Available here.