We may earn money from the products/companies mentioned in this post. As an Amazon Associate I earn from qualifying purchases. For more information, read our Terms & Disclosures.

DIY Witch Cauldron Fall Craft
I am loving the witch theme this year! Green and purple colors always stand out in the midst of the fall leaves and pumpkin decor. Last week I was browsing through my local craft store when I found miniature broomsticks. I knew right away that they would be perfect for a witch craft! Today I'm sharing a DIY plant pot witch cauldron craft that can be adapted for kids of any age, and is equally fun for adults! Speaking of witch themed crafts, have you seen my Witch Broom Wreath diy? I love greeting trick-or-treaters with the not-so-spooky wreath!
Supplies to make a Plant Pot Witch Cauldron

Deep Purple Artificial Carnations
Excelsior Natural Plant Filler (wood shred found on the floral aisle)
Glitter Twigs in Green and Black (found on Halloween Craft Aisle)
Miniature Broom Sticks
Paint brushes and small paint cup
Okay, so that's a lot of supplies. I get it. But don't be intimidated! I was able to pick up all these inexpensive supplies during a short trip to my local craft store. These tiny cauldrons are really easy to make and work great as a fine motor skill activity for the little ones!
Witch Cauldron Craft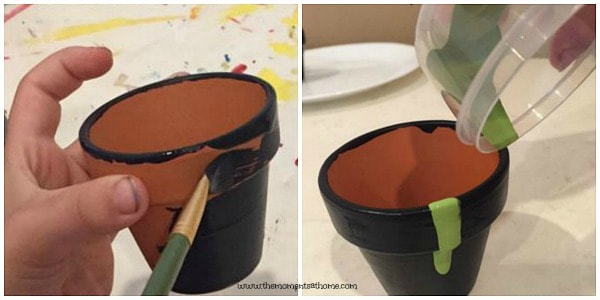 Paint the pot black with the outdoor patio paint.
Put a small amount of green patio paint in a cup and pour a little down the outside of the plant pot. I helped my younger children with this step. Repeat until you have three or four drips running down the sides of the pot. Let the paint dry.
Fill the plant pot with the natural shredded wood filler.
Cut flower stems to fit in the pot so that the bottoms of the flower buds sit flush with the top of the plant pot. Insert 2-3 flowers, covering the natural shredded wood filler.
Cut the glitter willows to about 5-6″ each and insert into the plant pot around the edges of the flowers. My kids added about five for each plant pot witch cauldron. This step is great for developing those fine motor skills!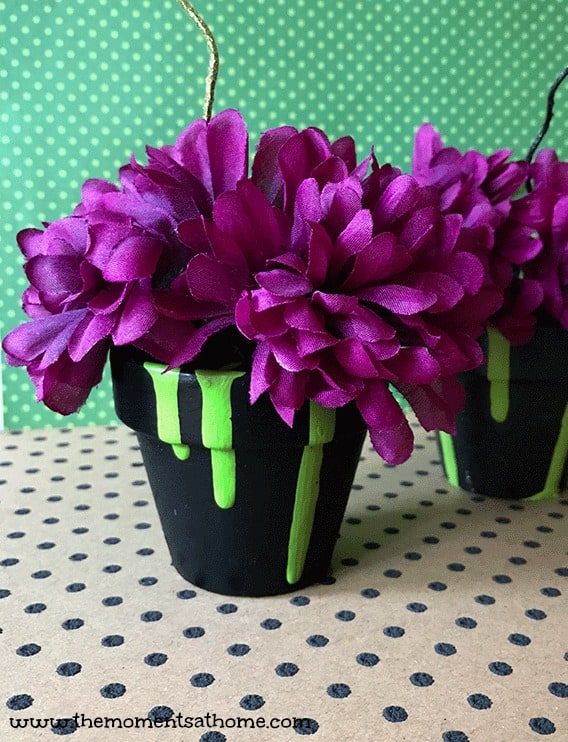 Place the miniature broom stick into the witch cauldron with the broom side facing up, or prop it up against the pot.
I just love seasonal crafts, don't you? Don't forget to check out my post on How to Make a Witch Broom Wreath. Happy crafting!