A Healthy Mother's Day Breakfast Made by Kids
Mother's Day is coming up in a few weeks and making mom a healthy Mother's Day breakfast in bed is a nice way to pamper her from the moment she wakes up. Kids can get in the kitchen and prepare healthy meals just like grown-ups! They can also learn about eating healthy while they're prepping the food.
On the Menu for Mother's Day
My kids helped me make a yummy layered fruit parfait, sunny orange slices and lemon water and I'm hoping they remember this cooking lesson when Mother's Day rolls around. Hint hint. This is such a simple breakfast that even my preschoolers were in the kitchen measuring and learning with their tween brother and sister.
My older kids carefully sliced the orange and lemon while my younger kids helped measuring and stirring. They little ones loved sprinkling the berries between layers of yogurt and squeezing lemon into a glass of water.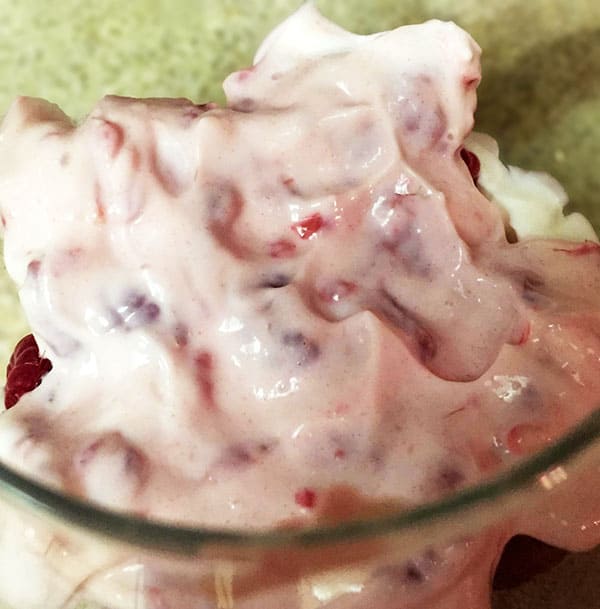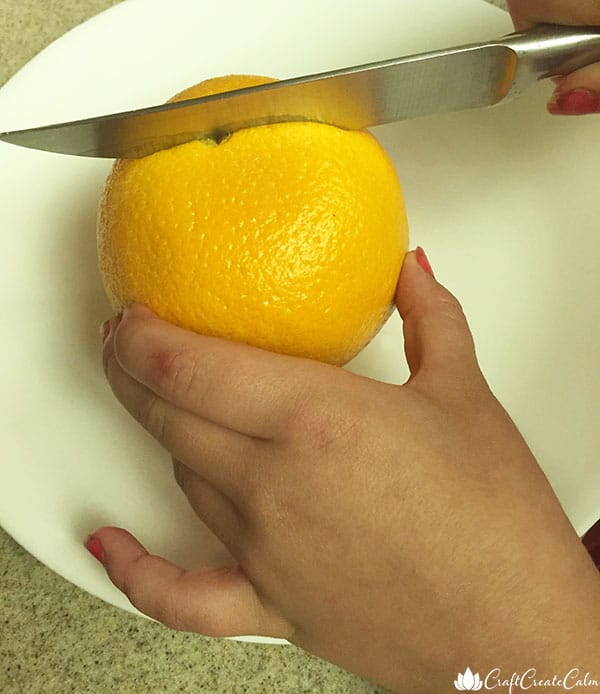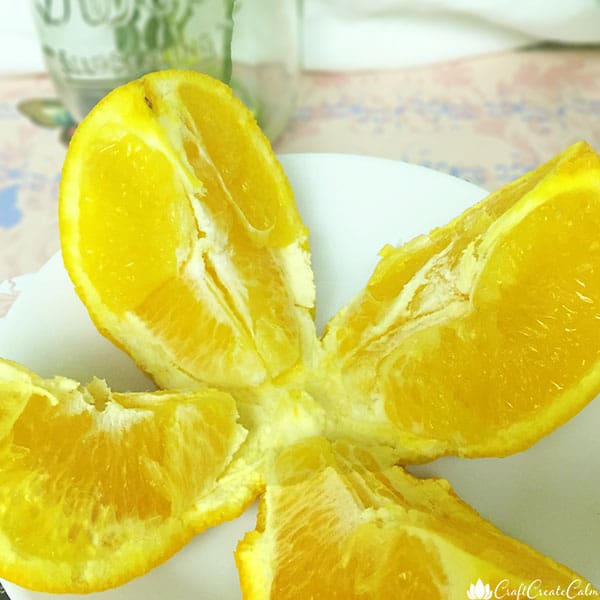 I let my kids eat this healthy breakfast themselves as a reward for all their hard work! We talked about the different food groups they were eating and how that is a healthy way to start their day. Greek yogurt is full of protein and dairy, berries and oranges can fulfill your daily serving of fruit, and lemon water is a refreshing start to the 64 oz. of water mom needs each day!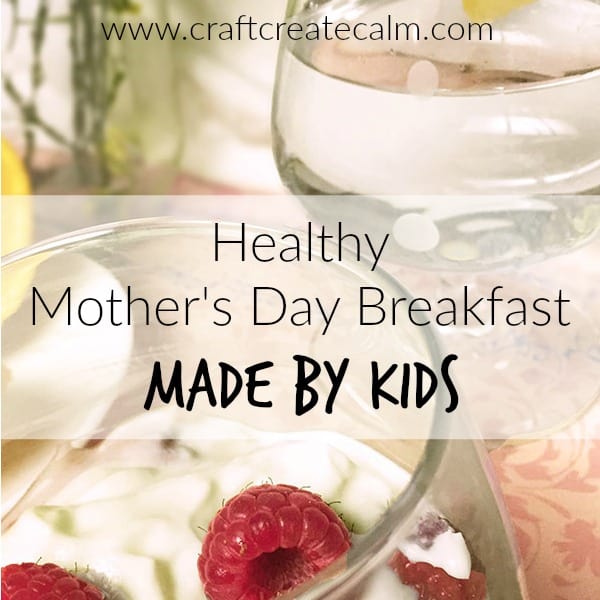 Hopefully my kids remember to make this healthy Mother's Day breakfast…I may even make this as a surprise for them one of these mornings!
Healthy Breakfast for Mom
Ingredients
1 cup Greek yogurt
1 cup berries (chopped or whole)
1 medium orange
1 small lemon
1 8 oz. glass of water
Instructions
Stir two heaping spoonfuls of chopped fruit into 1/2 cup yogurt and stir. Set aside.
Spoon a thick layer of yogurt into the bottom of a glass or bowl.
Add a layer of fruit on top of the yogurt.
Using a spoon, add the 1/2 cup of stirred fruit and yogurt on top of the fruit layer.
Add an additional layer of fruit over the mixture.
Spoon a top layer of Greek yogurt onto the fruit.
Top with 2-3 berries
Set aside to serve.
Slice an orange into 4-6 pieces making sure to only cut 3/4 of the way through the orange.
Leave the bottom of the orange attached and pull all the slices outward forming a circular shape with the slices.
Serve on a small plate.
Squeeze the juice of a fresh lemon wedge into warm or cold water.
Make a small cut on the inside of a slice of lemon and place the lemon on the edge of the glass.
https://www.themomentsathome.com/mothers-day-breakfast/
Copyright 2016 www.craftcreatecalm.com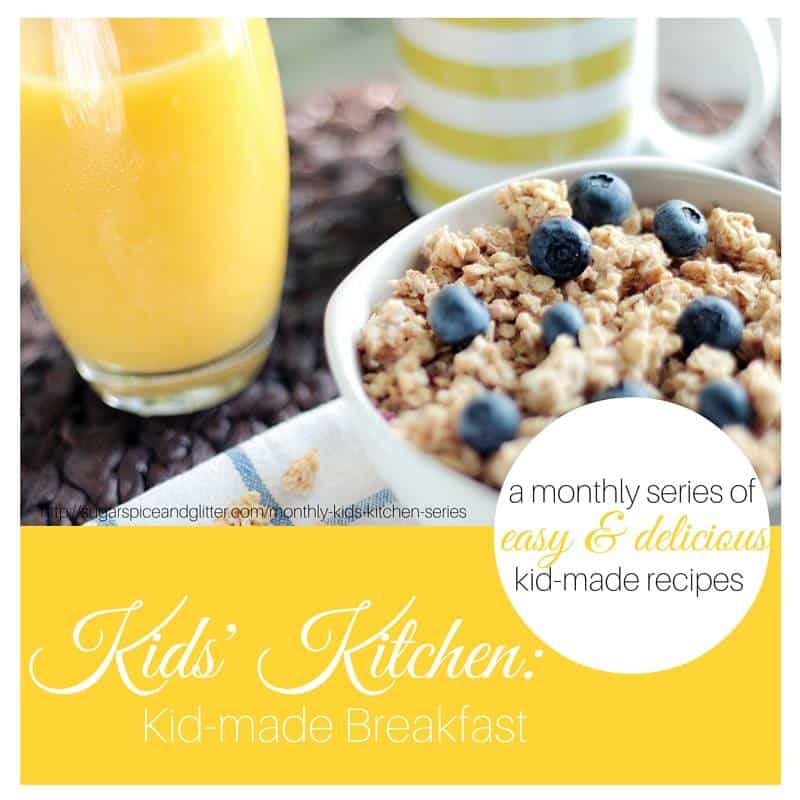 Kids in the Kitchen Monthly Blog Hop-Hop on over to these blogs by clicking on the links below. 
Kids' Kitchen: Apple Breakfast Loaf Recipe | Sugar, Spice & Glitter
Eggs Benedict | Royal Little Lambs
Healthy, Yummy, Gluten-Free Blueberry Muffins | Living Montessori Now
Banana Bread with a Hint of Maple Syrup | A Little Slice Of Us
Buttermilk Pancakes with Strawberry Compote  |  Royal Baloo
Tex-Mex Migas | The Gifted Gabber
Pear and banana breakfast oat and almond muffins | Kidgredients
No Bake Energy Bites | Mess for Less
Cheesy Chive Scrambled Eggs | Kitchen Counter Chronicles