We may earn money from the products/companies mentioned in this post. As an Amazon Associate I earn from qualifying purchases. For more information, read our Terms & Disclosures.

Color Matching for Kids with Pom Pom Flowers
We've been having fun with colors again in our preschool here at home, this time making pom-pom flowers! I've created a printable for color matching that kids love because they get to use fluffy little pom-poms and glue. My kids love any project where glue is involved. How about yours?
This isn't the first time we've used pom-poms for sorting colors. Last fall we sorted pom-poms and craft sticks in our homeschool preschool. My two youngest children have come such a long way with learning colors since then! I may have told you that my son was a bit of a slow learner with colors. His younger sister knew the colors of the rainbow at age two, but at age four he was getting colors mixed up. I'm proud to say that he knows his colors now! Well, almost. He mixes up green and yellow so this week we focused on those colors with our pom-pom flower craft.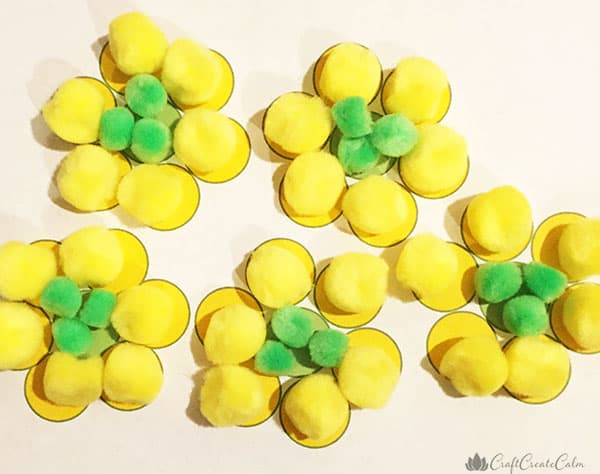 Supplies for this pom-pom craft:
Free Flower Pom-Pom Printable Template
This activity can be done two ways. Kids can glue the pom-pom on the circle of the matching color, or to reuse the printable template, laminate the paper. Kids can match colors like a puzzle!
Here's your link to the free Flower Pom-Pom Color Matching Template.
Pom-Poms are fun! Check out the links below for more pom-pom activities for kids!
The Very Hungry Caterpillar Craft  by The Resourceful Mama
Spring Pom-Pom Tree  by Raising Fairies and Knights
Elmer the Elephant by Adventures of Adam
Pompom Cupcake Pencil Topper by Teach me Mommy
Pom Pom Monsters by Kidz Activities
Pom Pom Pets by A Mommy's Adventures
Don't forget to follow me on Twitter for updates on all my latest educational posts!