We may earn money from the products/companies mentioned in this post. As an Amazon Associate I earn from qualifying purchases. For more information, read our Terms & Disclosures.
This delicious Hunan beef with garlic sauce can be enjoyed over cauliflower rice for a delicious low carb, keto dinner or over quick rice for a family style take out inspired dinner. Cook this copycat takeout Chinese garlic beef favorite skillet or the Instant Pot and enjoy easy dinner clean up with this one pot meal.
One pot dinners are marvelous; they make for such simple clean up! This Hunan beef with garlic sauce can be made completely in your Instant Pot or on the stove in your favorite skillet.
While we love skillet dinners in the winter, the Instant Pot (or Mealthy Pot) is our summer BFF because it just casts off less heat. You can make this entire dinner of Hunan garlic beef and veggies dinner in one spot without getting too hot to enjoy eating it afterwards! Win.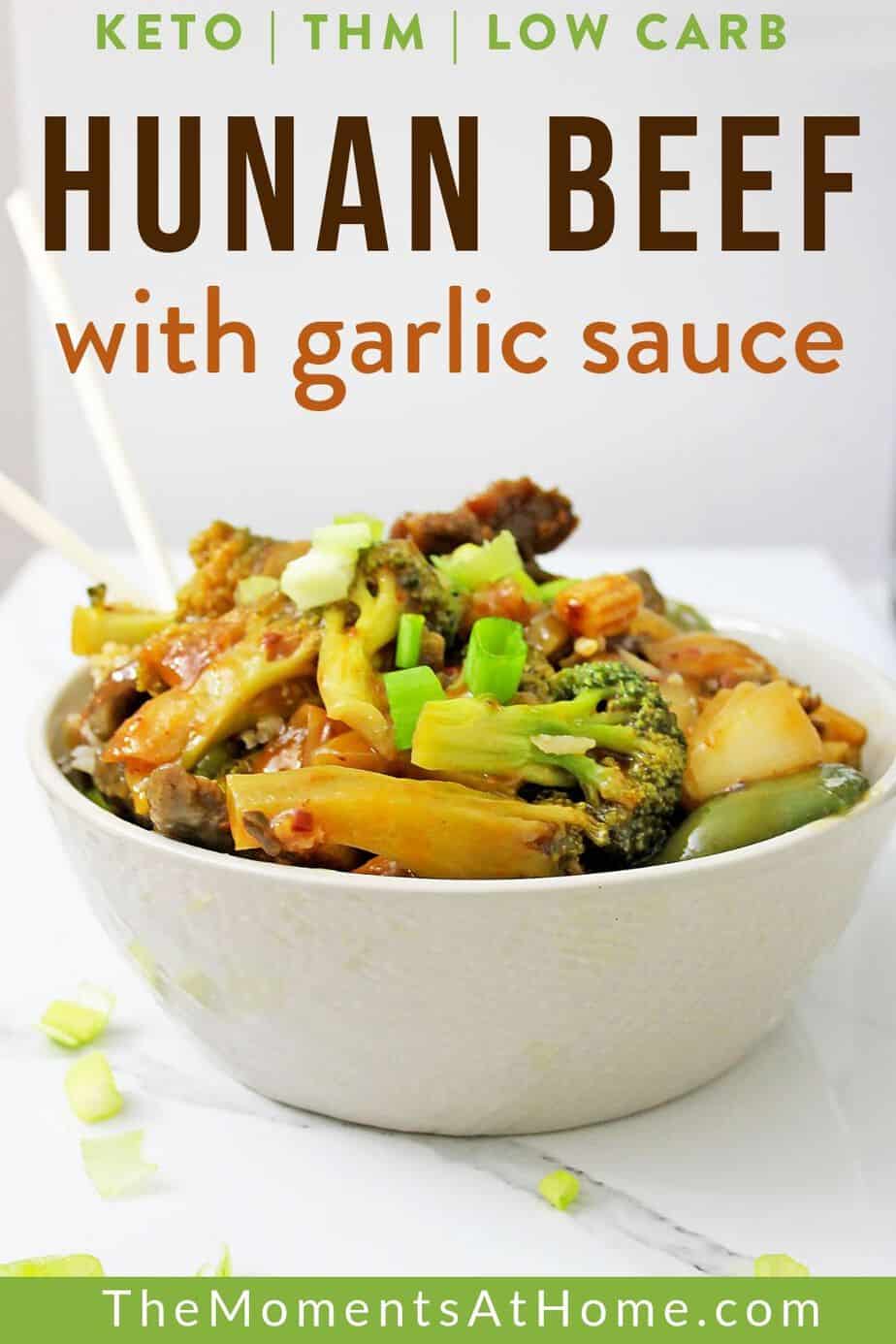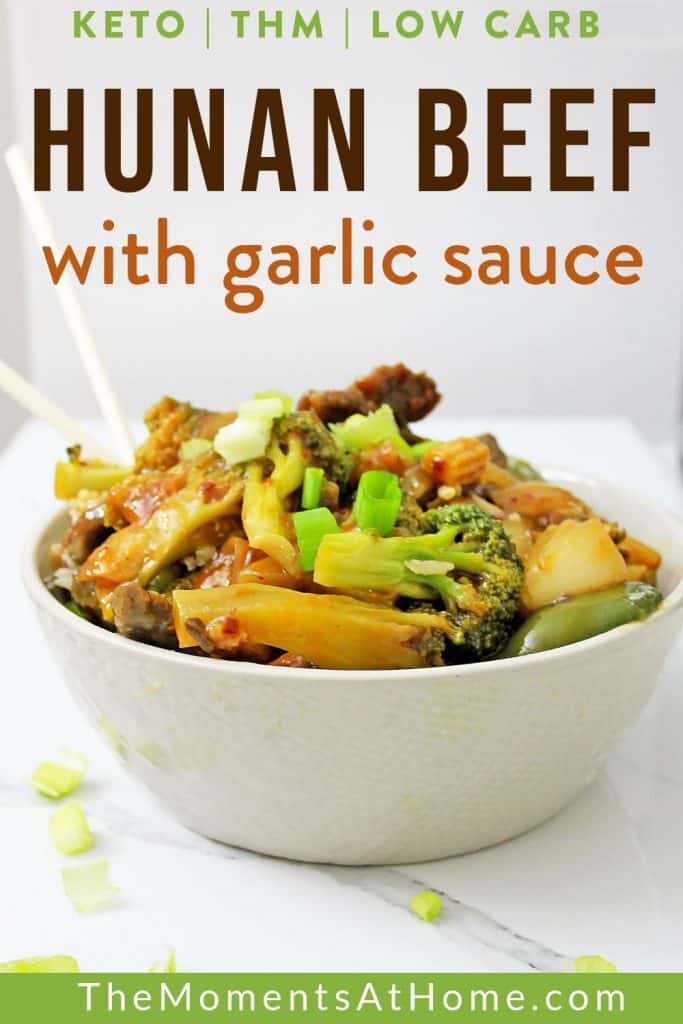 What Is Hunan Beef?
Hunan beef is a delicious, tender steak that is both sour and spicy. Hunan dishes use lots of fresh produce traditionally and are often enjoyed hot in the cold months and cold in the warm months. The unique Hunan beef flavor comes from a blend of wine, soy, garlic, and hot peppers.

While traditional Hunan beef with garlic sauce uses spicy Thai chiles to get it's heat, this recipe makes them optional since we're all about family food here and your kids may not be able to hold up under that heat.
How To Make Hunan Beef With Garlic Sauce
You can make this recipe either on the stove in a large skillet or right in your Instant Pot (direction for both are on the recipe card below; we do it both ways here, depending on the cook or the night).
If you're doing in the Instant Pot, all you will use is the sauce feature. While this is a hands on recipe, it's pretty simple and even my 10-year old has made it for dinner (if someone else cuts the meat for him and we leave out the hot sauce).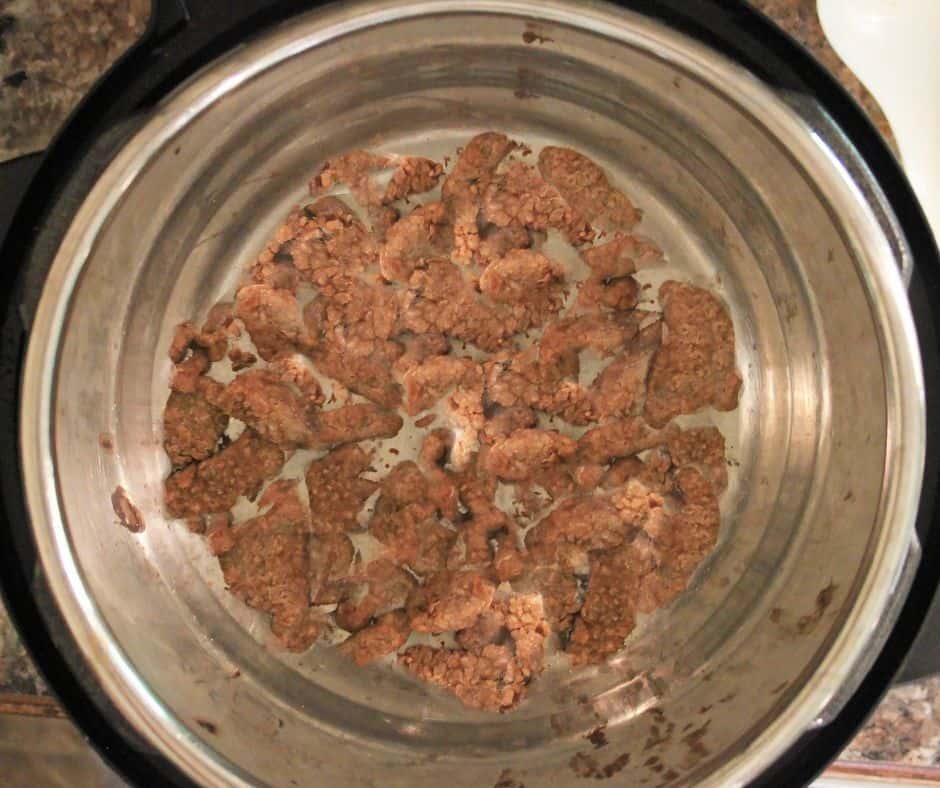 If you're strict keto or trying to stay very low carb, you can leave out the baby corn. However, you can also include it for everyone else and just not eat it or only eat a few bites if you want a truly Hunan beef meal. All the yummy veggies add great flavor!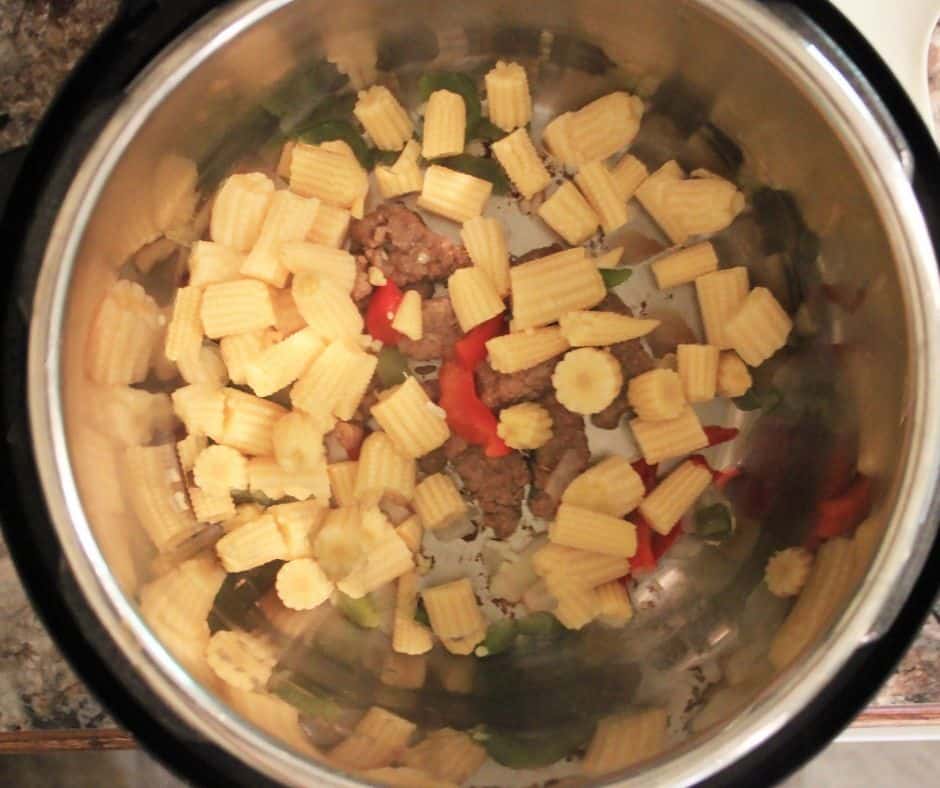 Tips For Make Hunan Beef With Garlic Sauce Low Carb
Sugar free is always preferable when possible; this way the low carb dad and keto mama can enjoy the same meal as the rest of the family without any added fuss.
Since sriracha sauce has sugar in it, if you're making this spicy you'll just use some stevia or erythritol with spicy chili garlic sauce.
Traditionally Hunan sauce thickens with corn starch, but you can also add a pinch of glucomannon to do the trick or enjoy a slightly thinner sauce without any additives.
Also, for strict keto numbers, you can eliminate or reduce the onion and leave out the baby corn. Or, if you're on the cyclical keto way of eating, this can be awesome carb up meal. Adding some matchstick carrots is delish, if you're doing this!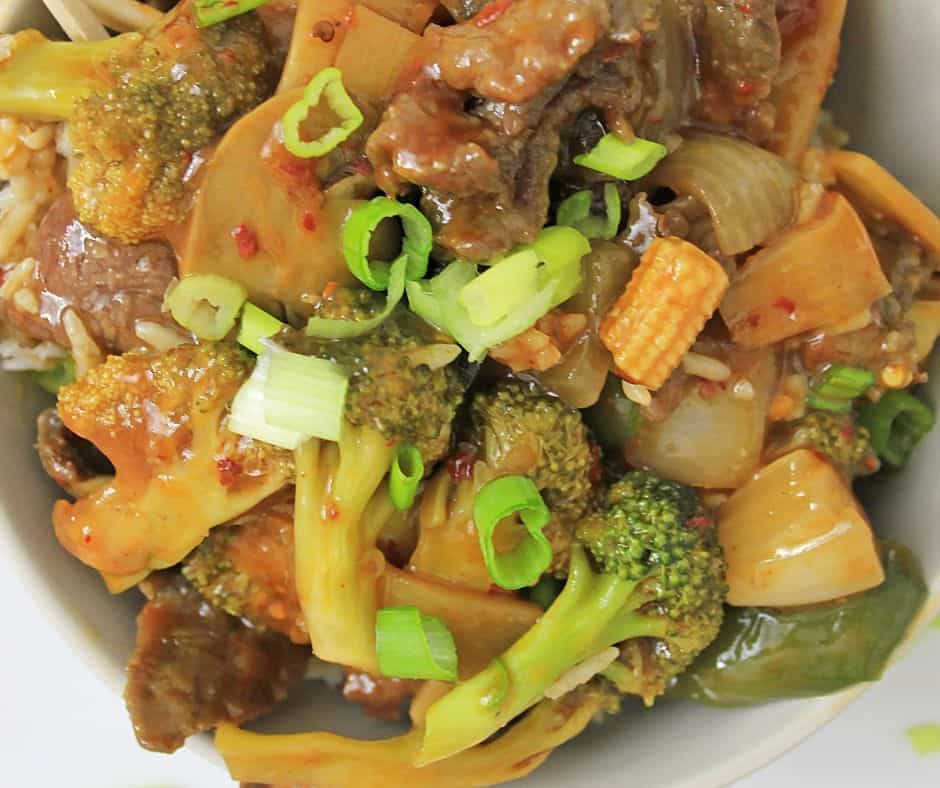 Serving Hunan Beef With Garlic Sauce: Hot Or Cold
Enjoy your homemade Chinese takeout inspired garlic beef with veggies over your favorite rice or noodle. For keto mamas or Trim Healthy Mamas, this could be cauliflower rice, zoodles, spaghetti squash, or even shredded cabbage.
For your kids and hubby? Check out the super fast trick of using Uncle Ben's Quick Rice on the recipe card below.
While this Hunan beef with garlic sauce is delicious piping hot over rice or noodles, the leftovers are amazing cold in a lettuce boat or over a salad for lunch. What a versatile and easy meal!
If you have leftovers (or you're a plan ahead mama who makes a double batch), store them in the fridge in an airtight container for up to a week. You can heat them up in the microwave or the skillet.
Yield: 6
Beef With Garlic Sauce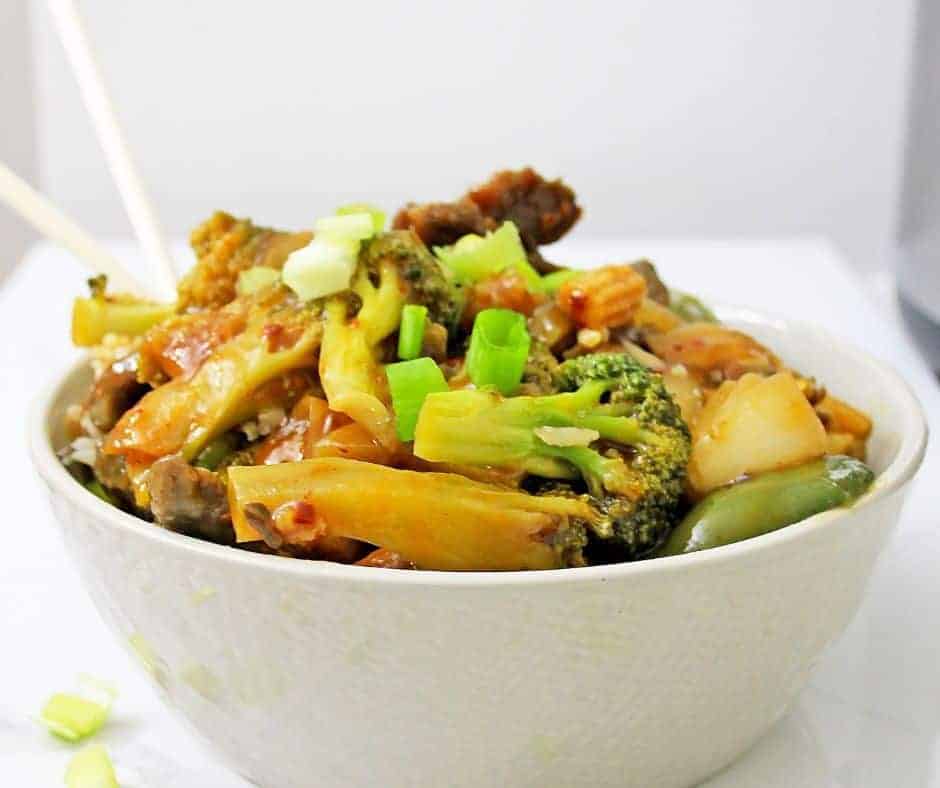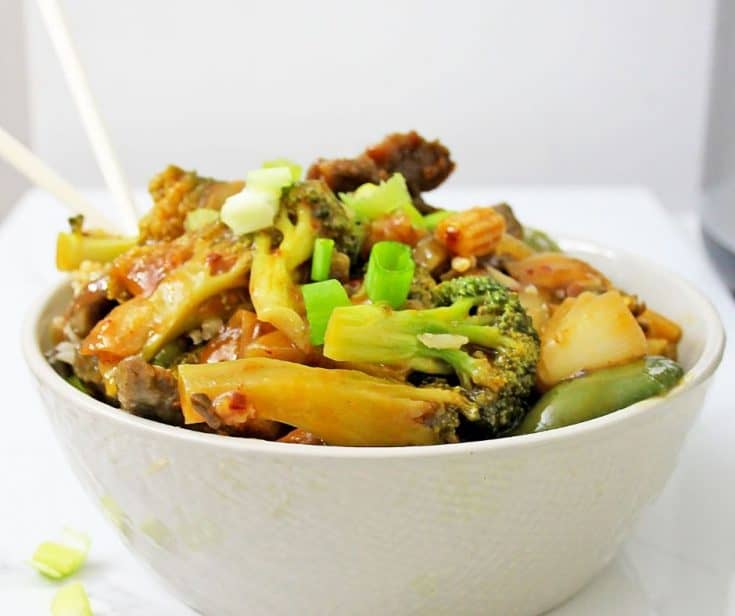 Easy homemade beef with garlic sauce tastes like your favorite Chinese takeout, but it's healthy! Packed with flavor and not hard to make, this will become a go-to meal in no time. You can serve it with traditional rice for the family and -if you're low carb, THM, or keto- use cauliflower rice or just enjoy it with veggies or in lettuce boats.
Additional Time
5 minutes
Ingredients
1 1/2 lbs thinly sliced flank steak
1 TB olive oil, divided
Coarse ground garlic salt with parsley (or regular garlic salt if necessary)
Pepper
2 tsp freshly minced garlic
1/2-1 tsp ground ginger (omit if you don't like the added spice)
1 yellow onion - sliced (use only 1/2 if keto or low carb)
1 red pepper - sliced
1 green pepper - sliced
(optional, if not low carb) 1 can baby corn
1 cup broccoli florets
1 cup sliced mushrooms
1 cup sliced bok-choy
1 package pea pods (found in the produce section)
3 green onions - chopped for garnish
SAUCE
1/2 cup water (or beef broth)
1/2 cup Coconut Aminos (or soy sauce)
2 tsp Rice Wine Vinegar
1 1/2 teaspoons chili garlic paste (optional, very spicy!)
1/8 teaspoon stevia extract powder or 2 tsp Swerve (optional, for use if you add the chili garlic paste)
1 teaspoon of minced garlic
Instructions
(To make using your Instant Pot, please see the notes section)
Heat your favorite skillet using medium high heat with olive oil in the bottom.
Add your sliced steak and stir it well to coat the pieces thoroughly.
Sprinkle the meat with garlic salt, ginger, and pepper.
Continue to stir and cook well until meat is cooked through, approx 10 minutes (some meat or thicknesses may take up to 15 minutes).
Remove your steak to a covered dish or wrap in foil to keep it warm while you finish the recipe.
Add additionaly oil if necessary. Add onions, red and green bell peppers, mushrooms, and bok choy. Stil well to make sure all are coated in oil.
Cook 5-6 minutes until vegetables are tender, but still colorful.
If you are adding the baby corn and pea pods do so now.
Add freshhly minced garlic and continue to cook for 5 minutes, stirring often.
Add the steak back in, stirring well to blend. Remove from heat while you mix the sauce together.
In a separate bowl, combine the water, soy sauce, rice vinegar, sugar free sugar alternative, and garlic. Combine well.
Pour the sauce over the meat and vegetables, returning to heat. Let simmer for 1 minute to combine flavors.
Optional with rice: Remove meat and vegetalbes from the pan. Add 1/3 cup water and Uncle Ben's Ready Rice and heat for 2 minutes. Fluff and serve with meat and veggies.
Optional with cauliflower rice: steam the riced cauliflower as directed in the microwave. Remove meat and veggies from the skillet and add the cooked cauli rice, stirring to coat with remaining sauce and to add flavor. Serve with meat and veggies.
If you like a thicker sauce, add a pinch of glucommannon to the sauce which stirring continually; it will thicken over a couple of minutes.
Notes
Most grocery stores, or specialty stores have sliced vegetables, already prepared for you, and that will make this recipe even easier. You can also pick up steak that is sliced for stir-fry in the meat section of the store, or have the meat department slice the steak for you to cut down on preparation time.
To use your Instant Pot for this recipe, follow these adapted instructions:
Press the Saute button on your Instant Pot, and add the olive oil, and add the steak, and stir to coat steak in oil.
Sprinkle steak with garlic salt, ginger, and pepper, and continue to stir until steak is brown, and no longer pink, about 10 - 15 minutes.
When steak is cooked, remove from Instant Pot to a covered pan or wrap in foil to keep warm.
Leave the Saute setting on, and add an additional tablespoon of oil. Add in the onion, red pepper, green pepper, broccoli, mushrooms, and bok-choy.
Stir everything together well so it's coated in the flavorful oil and saute until vegetables are tender, approx 5-6 minutes.
Add the (optional) baby corns, peas pods, and garlic. Cook for 5 minutes, stirring often.
Turn off the Instant Pot, and add the steak back into the Instant Pot and stir to blend.
In a bowl, mix the sauce; water, soy sauce, vinegar, sugar substitue, and garlic. Combine well.
Turn the saute setting back on, and pour sauce over steak and vegetables.
Cook for 1 minute, and turn off Instant Pot. Remove steak and veggies to a foil lined dish, making sure to pour all sauce over steak and vegetables, and wrap tightly.
Optional: With the Saute setting on low, add 1/3 cup of water, and add the Uncle Ben's Ready Rice, and heat for 2 minutes, or until Rice is hot. Turn off and serve.
Optional: With the saute setting on low, add in already cooked cauliflower rice and cook for 2 minutes in remaining sauce, stirring often, to add flavor.
Nutrition Information:
Yield:
8
Serving Size:
1
Amount Per Serving:
Calories:

232
Total Fat:

9g
Saturated Fat:

3g
Trans Fat:

0g
Unsaturated Fat:

5g
Cholesterol:

68mg
Sodium:

456mg
Carbohydrates:

11g
Fiber:

2g
Sugar:

7g
Protein:

26g
I'm not a nutritionist or medical expert; no dietary information or views expressed should be taken as medical or nutrition advice. All recipes are provided for enjoyment and not as medical solutions. Dietary information is provided as a courtesy using a program and should be independently verified if desired.