Cute Ghost Suncatcher Craft for Kids
We're getting into fall decorating here at home which means it's time to make some crafts to place around the house. I love to make Halloween and fall décor which you probably know if you've read my fall project posts. I've shared a diy witch wreath, a spooky spider web wreath and easy fall décor projects. My kids loved making the witch cauldrons and couldn't wait to put together more fall decorations themselves
These cute little ghost window clings are great for preschoolers and younger kids, and they make a great diy for grown ups too! It's all in the details with these super simple ghosts for fall. Each ghost can have it's own spooky or friendly face, shape and size. So get out your supplies and start crafting!
Supplies:
Wax Paper
Pencil
Scissors
Black Card Stock or Construction Paper
Glue
Tape
Directions:
Using a pencil, draw a ghost on a piece of wax paper.  The piece of wax paper should be about 4 – 6 inches wide depending on the size of the ghost that you want to create.
Cut the ghost out of the wax paper.  If your child is just learning how to cut, he or she may have a difficult time cutting the paper.  Use the hand-over-hand method to help your child cut out his or her ghost.
Draw 2 circles for the ghost's eyes and an oval for the ghost's mouth on the black card stock.
Cut the shapes out of the black paper.
Glue the shapes onto the wax paper to make the ghost's face.
Tape the ghost on a window.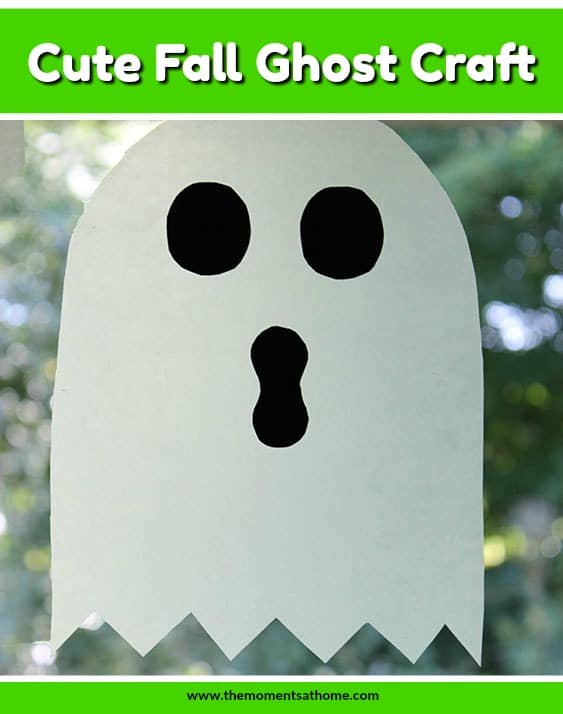 This cute ghost suncatcher craft for kids is a fun and easy decoration for young children to make.  Plus, it will show kids that Halloween characters like ghosts don't have to be scary!