100 Must Have Art Supplies for Preschool and Kindergarten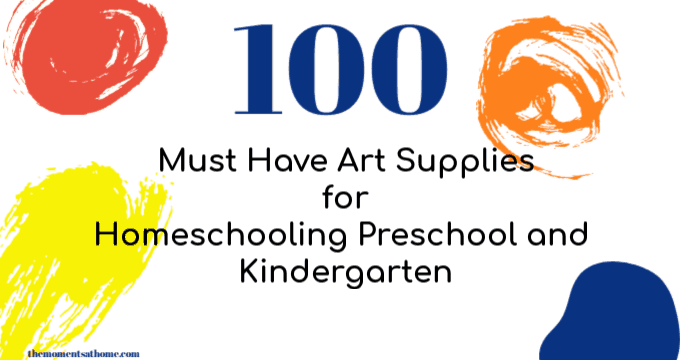 I'm excited to be joining the 100 Things link up for homeschooling families this year through the iHomeschool Network along with so many great homeschooling bloggers. I'm adding two posts to this year's 100 Things link up, 100 Must Have Art Supplies for Homeschooling Preschool and Kindergarten, and 100 Historical Fiction Books for Kids. You can find all the 100 Things lists here.
When I was homeschooling my preschooler my favorite subject to teach was art and it's still a favorite along with language arts. I'msure you've guessed that because the majority of my posts here are about book lists for kids and crafts for kids. I love helping kids be creative and embracing the magic that's in books.
100 Art Supplies for Preschool and Kindergarten
Paper Supplies
1. Colorful Construction Paper for backgrounds, shapes cutting, and all sorts of projects.
2. Copy Paper for printing worksheets, coloring pages, and to use as drawing paper.
3. Watercolor Paper for the more serious art lessons.
4. Newspaper to cover tabletops during messy projects, and for art and craft projects.
5. Contact Paper for sun catchers.
6. Tissue Paper for too many crafts to list!
7. Paper Bags
8. Index Cards for making small crafts and flash cards.
9. Scrapbook Paper for crafting.
10. Graphing Paper for counting, mosaic creation, and block coloring.
Supplies for Painting
12. Water Cups
13. Dish Cloth for cleaning brush between colors
14. Paper towels for cleaning brush between colors and clean up.
16. Finger Paints
17. Ink Pads for Fingerprint Art
18. Standard Paint Brushes
19. Cut Kitchen Sponges for Painting
21. Paint Tray
22. Standing Easel
23. Tabletop Easel
24. Canvas for the more serious art lessons.
25. Large Paint Brushes for Small Hands
26. Painting Smocks
27. Kwikstix Solid Tempera Paint
28. Sponge Painting Brushes and Rollers
29. Paint Pens for painting rocks, wood, and other surfaces.
30. Cotton Balls
31. Clothes Pins to hold the cotton balls.
32. Q Tips for dot painting
33. Do a Dot Art! Markers
34. Watercolor Pencils
Supplies for Drawing and Coloring
35. Thick Markers
36. Thin Markers
37. Colored Pencils
38. Pastels
39. Charcoal
40. Graphite Pencil
41. Ruler
42. Stencils for Kids
43. Color Crayons
44. Eraser
45. Smudging Tool
46. Pencil Sharpener
Art Activity Books for Kids
50. Ed Emberley's Complete Funprint Drawing Book
51. Drawing Book for Kids (Scratch Art)
52. Preschool Color and Activity Book
53. Cutting and Pasting Activity book
54. Melissa and Doug Scissor Skills and Tape Activity Books
56. Drawing Journal: Primary Writing and Drawing Journal for Kids
58. Paint by Stickers for Kids: Under the Sea
60. Paint by Sticker Kids: Beautiful Bugs
61. Melissa and Doug on the Go Colorblast! No Mess Marker Book
Books about Artists and Art Technique for Younger Kids
65. In the Garden with Van Gogh
66. A Magical Day with Matisse
67. 13 Art Techniques Children Should Know
70. Kids Art Works!
71. Recycled Craft Projects for Kids
Art Supplies for Developing Fine Motor Skills
72. Clay
73. Play Doh and Play Doh Tools
74. Scissors
75. Tweezers
76. Pipe Cleaners
77. Hole Punch
78. Beads
79. Yarn for cutting and stringing beads.
80. Ribbon for cutting.
81. Slime
Miscellaneous Art Supplies
82. Cardboard Tubes
83. Coffee Filters
84. Tape
85. PomPoms
87. Food Coloring
88. Wooden Craft Sticks
89. Glue Sticks
90. School Glue
91. Buttons
92. Stickers
93. Dry Erase Markers
94. Dry Erase Board
95. Chalk
96. Chalk Board
97. Google Eyes
98. Laminator
99. Feathers
100. Paper Plates
Whew! That's a lot of art supplies! There are so many more I could list, but this is a 100 Things link up…
Looking to get started with a single kit? Try this Busy Box from ALEX Toys.
Make sure you check out all the other great 100 Things lists from iHomeschool Network bloggers!